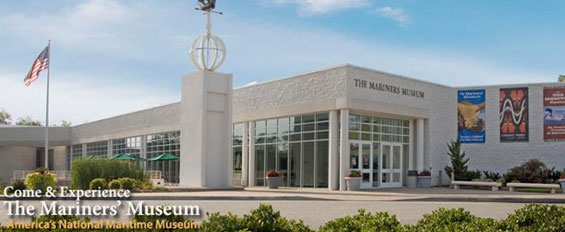 Behind-the-Scenes USS Monitor Conservation Lab Tour @ The Mariners' Museum
The USS Monitor Center at The Mariners' Museum
In 1862, the ironclad USS Monitor not only stopped the CSS Virginia from destroying the Union's wooden fleet in Hampton Roads, she changed history, ushering in the iron age of naval warfare and marking a defining moment in the course of the Civil War. Experience all the excitement and wonder of the USS Monitor Center, a dramatic $30 million, 63,500-square-foot facility and one of the premiere Civil War attractions in the country.
NOAA's Monitor National Marine Sanctuary protects the wreck of the famed Civil War ironclad USS Monitor, located 16 miles southeast of Cape Hatteras, N.C., in 240 feet of water. Designated the nation's first marine sanctuary in 1975, the Monitor has since been the subject of intense investigation and major artifact recovery. In 1987, The Mariners' Museum became the official repository for all Monitor artifacts and archives.
The USS Monitor Center provides visitors with unparalleled access to the story behind the Battle of Hampton Roads and the iconic ironclad vessels USS Monitor and CSS Virginia. See original artifacts, design your own ironclad, walk the deck of our full-scale Monitor replica, and witness artifact conservation in action in the world's largest marine metals conservation lab. By participating in this educational and entertaining bus tour, you will receive a rare, guided behind-the-scenes tour inside the conservation lab of the USS Monitor Center at The Mariners' Museum. You will also have access to the USS Monitor Center's award-winning Ironclad Revolution exhibition, as well as all other museum exhibits, including the newly opened Abandon Ship: Stories of Survival. This dynamic exhibition explores the aftermath of marine catastrophes through the perspective of those who have been cast adrift on the sea.
About The Mariners' Museum in Newport News, Virginia
The Mariners' Museum, designated by Congress as America's National Maritime Museum, is one of the largest and most comprehensive maritime museums in the world. For over 75 years, the Museum has illustrated the spirit of seafaring adventure, assembling a world-renowned and strikingly diverse collection of maritime artifacts, including figureheads, ship models, decorative arts, and small craft from around the world.
Bus tour highlights include:
45-minute behind-the-scenes guided tour of the largest shipwreck conservation lab in America and 15-minute Q&A session with conservation staff.
Open access to the USS Monitor Center's award-winning Ironclad Revolution exhibition.
Open access to all other exhibitions at The Mariners' Museum, including our newly opened exhibit Abandon Ship: Stories of Survival.
Don't miss this rare opportunity to personally experience this piece of our nation's heritage. Shuttle buses depart the Virginia Beach Convention Center at 08:00 in the morning. For more information, please visit:
http://www.marinersmuseum.org/
http://www.marinersmuseum.org/uss-monitor-center/uss-monitor-center